The clan pole is honoring the lineage, clans, and tribes of our family as well as the human family. In a sense, it's a magnetizing for the stability of the sacred trust of caretaking the land. It's a revelation of our commitment that the sacred land be cared for in a spiritual manner for the future.
-Venerable Dhyani Ywahoo
With master sculptor and carver Reinhard Reitzenstein, carving and sculpting are not just an art but a spiritual experience. This week, we excitedly watch Reinhard as he finishes the third of seven Cherokee clans to be represented on the Peace Village clan pole. So far, he's completed Wild Potato/Bear, Long Hair, and this week, Wolf.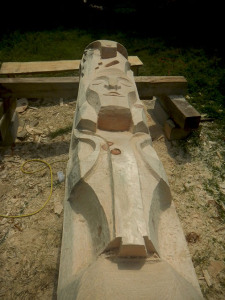 What an incredible work of love and professional artistry!
We continue to raise funds for the finalization of his carvings and for a foundation in which to plant the clan pole. Once funds have been raised, we'll have a Pole raising ceremony, later in the year!
To see more pictures and to check in on fundraising, please visit:
http://peacevillagesummerwow.weebly.com/